MANILA PHILIPPINES - Bohol, one of the country's top tourist destinations was hit by a 7.2 magnitude earthquake this Tuesday morning damaging property – including historic churches.
The quake struck at 8:12 am, and was centered 2 kilometers southeast of Carmen, Bohol (09.80°N, 124.20°E). The quake's depth of focus was 33 kilometers, and was of tectonic origin, the Philippine Institute of Volcanology and Seismology (Phivolcs) said in its initial report."
According to
Heritage Conservation Society
, at least 10 churches were damaged by the quake. They include:
Church of San Pedro Apostol, Loboc, Bohol
Church of Our Lady of Light, Loon, Bohol
Santissima Trinidad Parish, Loay, Bohol
Church of Our Lady of the Immaculate Conception, Baclayon, Bohol
Church of Our Lady of the Assumption, Dauis, Bohol
San Nicolas Church, Dimiao, Bohol
Santa Cruz Parish Church, Maribojoc, Bohol
Basilica Minore del Santo Niño, Cebu
Cebu Metropolitan Cathedral, Cebu
St Catherine's Church, Carcar, Cebu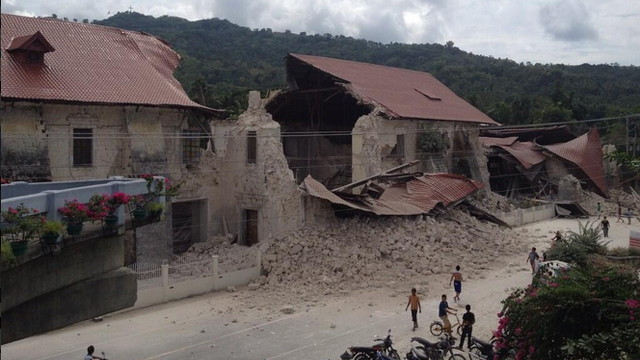 A 400-year-old structure of the San Pedro Church in Boboc, Bohol. Photo by Robert Michael Poole


Church of Our Lady of the Immaculate Conception in Baclayon, considered to be the oldest churches in Bohol.
Basilica Minore del Sto. Niño
Santissima Trinidad Parish, Loay, Bohol



Chocolate Hills viewdeck
City Damages











It was really heartbreaking. I've visited Bohol and Cebu and these said churches last time and terribly sad to see the damages. It was quite a different feeling when you actually visit the place and then saw it in total wreck. It's really hard to believe that it actually happened. -_- The big question is why include many catholic churches and historical places? These churches that had stood for decades and centuries. So depressing to see our own heritage went to ruins.
Let us do pray for all the affected people and may God give them the strength to recover from all of what had happened.
Everything in life is temporary, in just one blink, we may lose it..
Pray always and Trust God.
Disclaimer: Photos and info source belong to its rightful owner, no infringement intended