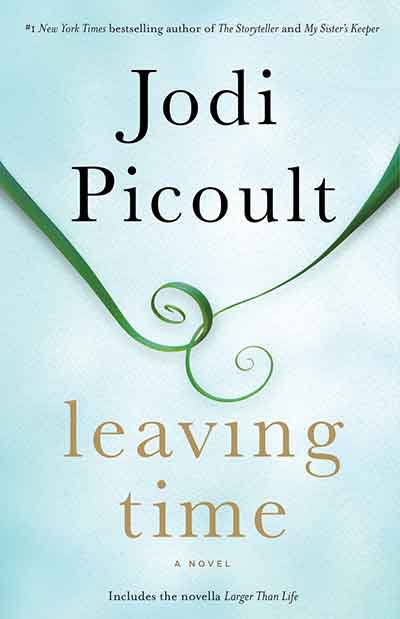 A mother's love.
A daughter's search for truth.
A mystery that will not rest…
Sypnosis:
13-year-old Jenna Metcalf is on a quest, searching for her mother, Alice, an elephant researcher, who disappeared 10 years earlier after a tragic accident at their sanctuary for former circus/zoo elephants in New England. Leaving Time explores the mother-daughter relationship, be it elephant or human, and the idea that those we can't forget are never truly gone.
-source
Review:
This book is amazingly riveting..loved it! Just that, i think the research about elephants in this novel is way too much to take, however it is indeed informative. I was actually convinced that Alice Metcalf ran away that it made me eager to know her reasons why she left and also the truth about what really happened in the accident at the elephant sanctuary coz Serenity and Virgil's brainwork got me really confused. And yes the massive twist and turns of the story - only to find out in the near end that Alice's daughter Jenna, who had been searching for her was the one who got lost..i mean died a decade ago. And all along Jenna and Virgil was both ghosts who have unfinished business..i suppose.
I love the part when Serenity and Virgil being truthful to each other in a way that they are horribly flawed but that didn't seem to matter. I loved some of the lines that actually felt it was intended for me. I wouldn't also miss the part of the page when the title was mentioned and what it meant. That's quite simple but so deeply moving.
The ending took me completely by surprise and left me all puzzled. Like, there's still missing parts of the story or maybe that is for the reader to conclude what they think might have happened next and to the other characters as well.
Thoughts:
People who run away either have something they're trying to reach or something they're trying to avoid.
Precisely.
Some people aren't really missing rather they just don't want to be found or the obvious fact that you're not included in the people they want to be in their lives. Which is way too harsh if you're the other person attempting to get near to someone who shunned away. Or possibly being together is a future dream but the turn of events made it too hopelessly complicated for both. Everyone has their own reasons although at times it's quite unacceptable. Sometimes, people leave not that they want to, but because they need to and most probably, that's the most stupidest rightful choice ever that they
shouldn't have done at all.

Everyone else surely has something that they've lost or maybe on the process of it and missing the part that once belonged to what become now is just an empty hole. Some are lucky to get it back, most are just helpless to find their luck. True, there are certain people who come in our lives to fill in the gaps of our brokenness and magically make us whole again. Only that, each time someone leaves us, there's always a part of ourselves that become dented, torn apart and gradually turned back into a gaping hole, all over again. Such an impasse.
There's a lot of truths and lessons to be learned from this book. Particularly, of how to cope up with losing and finding — of losing something, someone, you've never really had and finding what you've been looking for, only to lose it again in the end.

It's even true that sometimes forgiving and forgetting isn't mutual. And i believe that when you lose someone, they cannot be replaced easily nor be forgotten rather they occupy the allotted empty space in your heart.
I guess in this life we are like donuts. Lucky if you're the bavarian kind of donuts. No holes, just full of flavored fillings! Well, not bad at all if you're like the regular donut with a hole, it's the bestseller ever. For whatever that means.
Why did i ever think of that? Funny thought but guess true.
With the holes in the center part of ourselves, life can still, will always be sweet.